Wedding Ice Cream Cart Hire
Everybody loves ice cream!
From our Vintage ice cream cart we serve premium Ice Cream from an award-winning supplier. The ice cream is all made fresh on a farm using fresh organic milk and the finest local ingredients. All the ice cream is freshly made to order and available in a large selection of amazingly tasty flavours. You can choose up to six flavours of unlimited Ice Cream served to your guests for 2 hours (additional hours available upon request). We serve all the ice cream in waffle cones or tubs and guests can then help themselves to a choice of sauces and sprinkles. We can source hundreds of flavours and well-known branded ice cream such as Haagen-Dazs and Ben and Jerrys, please ask for details. We can also provide lollies on request. During the Christmas season we can supply seasonal flavours such as stollen cake, black forest gataeu and more at no extra cost.
For our flavours please click here: Ice cream Flavours
Our carts can go inside as well as outside from places like the top of Canada Square to roof top parties in Oxford Street and St Paul's.
Decoration of the cart – The cart can be decorated bespoke to match your colour scheme your theme. We can add names of the happy couple add flowers etc, we can even add some sparkle with fairy lights, let us know your ideas and we will do our very best to accommodate these. We can also offer Kulfi, Halal, Kosher, Diabetic, low fat and Non-Dairy Ice Cream. Please contact us if you have your own ideas or special dietary needs and we will provide the individual service you require.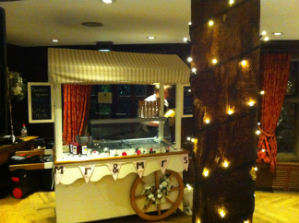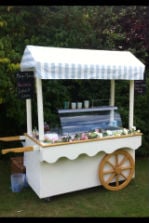 Ice Cream Cart prices for 2016 :
Prices start from £490 for completely unlimited ice cream for up to 100 guests. We can cater for any size party/venue up to several thousand guests, please email us for individual quotes.

Prices are for guide only and can vary on seasons, availability, also time and distance.
Our price includes set up and dismantle and up to 2 hours serving time. We will arrive at the venue 1 hour before we are due to serve. If you wish for us to arrive at the venue and set up earlier than this there is a small charge.
Upon booking the Ice Cream Cart we require a £100 non-refundable deposit which secures your date. The balance being due 14 days before the event.
Please contact us for further details.